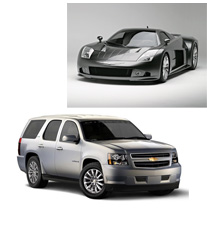 Honda Motor Company, Ltd. (本田技研工業株式会社, Honda Giken Kōgyō Kabushiki-gaisha?, Honda Technology Research Institute Company, Limited)
listen (help·info) (TYO: 7267 NYSE: HMC) is a multinational corporation headquartered in Japan.
The company manufactures automobiles, motorcycles, trucks, scooters, robots, jets and jet engines, ATV, water craft, electrical generators, marine engines, lawn and garden equipment, and aeronautical and other mobile technologies. Honda's line of luxury cars are branded Acura in North America. More recently they have ventured into mountain bikes.
Honda is the 6th largest automobile manufacturer in the world as well as the largest engine-maker in the world, producing more than 14 million internal combustion engines each year. In August 2008, Honda surpassed Chrysler as the 4th largest automobile manufacturer in the United States. Currently, Honda is the second largest manufacturer in Japan behind Toyota and ahead of Nissan.[3]